100 Watt 12 Volt Flexible Monocrystalline Solar Panel
Traditional solar panels are rigid and often enclosed in tempered glass. The Renogy 100W Flexible Solar Panel is anything but traditional. Perfect for marine use or placement on top of a van or vehicle, the Renogy 100W Lightweight Solar Panel is thin and capable of flexing up to 248 degrees. At 4 pounds, this flexible solar panel weighs only a quarter of its traditional 100W counterpart. Highly flexible, this lightweight panel can easily be installed on curved surfaces. This panel can also be used for other various applications, including providing power on a boat or teardrop trailer.
Mounting Recommendation: Modules must be mounted using silicone structural adhesive on the backside of the panel, grommets are only to be used for non-mobile applications. For detailed installation methods, please consult a local contractor for guidance.
KEY FEATURES
Extremely Flexible
This panel is capable of meeting a wide range of applications where standard panels can be inconvenient to mount, such as on the curved roof of an airstream
Ultra Lightweight
Thanks to advanced polymer materials, this product weighs 70% less than conventional solar panels, making transportation and installation a breeze
Super Thin Lamination
Hardly noticeable, the Renogy 100W Lightweight Panel laid flat is only a tenth of an inch tall! Approximately 95% thinner than its rigid counterpart, this panel is ideal for a stealthy solar setup
Highly Durable
Rigorously tested, the 100W panel was designed to withstand extreme wind of up to 2400 Pa and snow loads of up to 5400 Pa
PACKAGE INCLUDES
Renogy 100W Flexible Solar Panel
1 x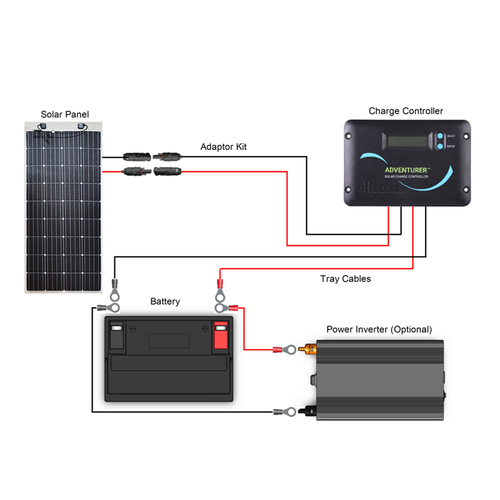 RENOGY 100W MONOCRYSTALLINE FLEXIBLE SOLAR PANEL

Electrical Specifications
Mechanical Specifications
Maximum Power at STC:
100W
Cell Type
Monocrystalline (4.92 x 4.92 in)
Open Circuit Voltage
22.5V
Number of Cells
36 (4 x 9)
Short Circuit Current
5.75A
Dimensions
48.0 x 21.6 x 0.08 in (1219 x 546 x 2 mm)
Opitmum Operating Voltage
18.9V
Weight
4.2 lb (1.9 kg)
Optimum Operating Current
5.29A
Fire Rating
Class C
Module Efficiency
14.9%
Frame
None
Maximum System Voltage
600 VDC
Connectors
Solar Connectors
Maximum Series Fuse Rating
15A
 
 
Thermal Characteristics
Solar Connectors
Operating Temperature
-40°F to 185°F(-40ºC to +85ºC)
Rated Current
30A
Nominal Operating Cell Temerature (NOCT)
45±2ºC
Maximum Voltage
1000VDC
Temperature Coefficient of Pmax
-0.42%/C
Maximum AWG Size Range
10AWG
Temperature Coefficient of Voc
-0.31%/C
Temperature Range
-40ºF to 194ºF
Temperature Coefficient of Isc
0.05%/C
IP Rating
IP 67
Specification:
100 Watt 12 Volt Flexible Monocrystalline Solar Panel
| | |
| --- | --- |
| Cell Type | Monocrystalline |
| Voltage | 12V |
| Watt | 100W |

100 Watt 12 Volt Flexible Monocrystalline Solar Panel