An Interview with Trent and Whitney
Who Have Been Living in an Off-Grid Yurt for A Year
A year ago, Renogy witnessed the setup of Trent and Whitney's yurt from scratch at Joshua Tree, California. And now, we were invited again to their fully furnished yurt – a convenient and modern home in the desert.
Trent and Whitney are a happily married couple for over 6 years. It was Trent who we first met through his active interaction with us on the
Renogy Power Plus community. He told us that he and his wife were starting up a project – setting up an off-grid yurt at Joshua Tree. Somehow, we became the lucky audience to witness how they built their off-grid yurt with Renogy's solar panel system.
You can have a glimpse at how their yurt originally looked like in this article
The Modern Love Letter —Trent Newkirk and His Hardcore Romance.
Now, on with our interview.

"Welcome to our off-grid yurt."
Trent and Whitney, accompanied by their dogs, welcomed us outside of their yurt. The inside of the yurt is homey, with a large canopy supported by wooden frames and decorated with green plants. What caught our attention were some large electrical appliances: the AC unit, TV, and refrigerator, which, without renewable energy, it would seem unfitting in this setting. We felt eager to sit down with them and listen to their story of how they made it through their off-grid yurt project and how they once dealt with electricity problems, before using Renogy.
"Without our Renogy solar system, we probably wouldn't be able to live in such an extreme climate."
They use Renogy's solar system to power everything. Outside of their yurt, 23 solar panels are basking in the noonday's sun. The generated electricity passes the charge controller, is stored in the batteries, and when needed, it's transformed into AC power by the inverter. Apart from the solar panels, all components are hidden away in their kitchen cabinet. They also have a Lycan 5000 solar generator for backup power.
"I originally wanted to live in a yurt since I was 15 years old."
Whitney told us she had dreamed of having a yurt when she was a young girl. And another reason why they decided to transition from the travel life to yurt life was that they wanted to put down a more permanent foundation for their three dogs, the wild and crazy cuties.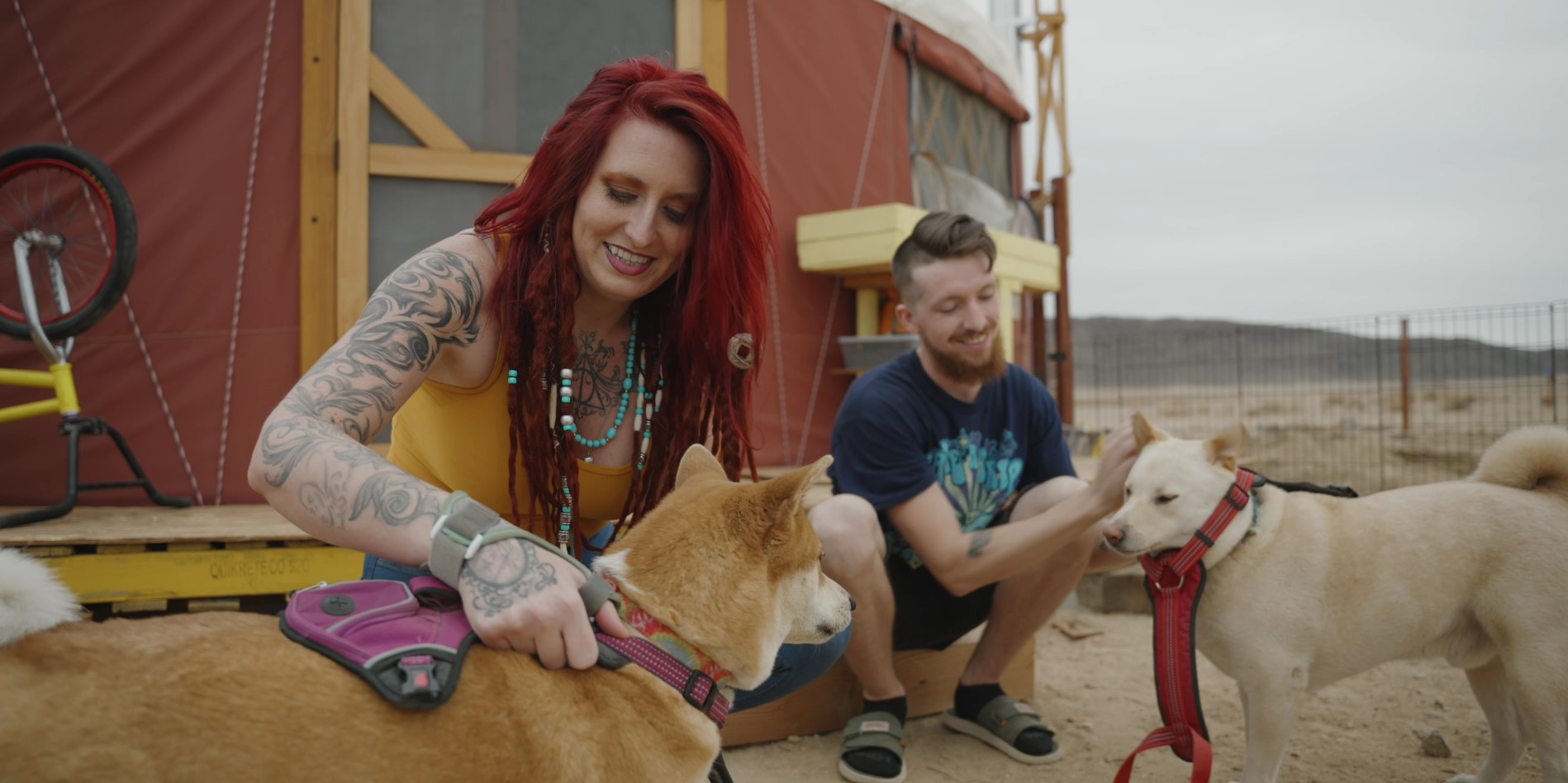 What are some essentials when living in a yurt?
[01:39-2:20 in the video]
"Solar energy is a big player."
Living in a yurt, especially in a hot desert, the climate is an intimidating element. But easy access to solar energy can efficiently change the situation. The only problem for Trent and Whitney would be how to get the solar panel system installed, as they couldn't afford to hire a full team to install the whole solar system.
"We had no previous experience installing solar systems – Renogy was the easiest, friendliest, DIY-brand to offer technical support that helped us figure it out."
Renogy's
Lycan 5000 solar powered generator keeps their AC and refrigerator running in the desert heat now, when once, without it, they blew out a breaker.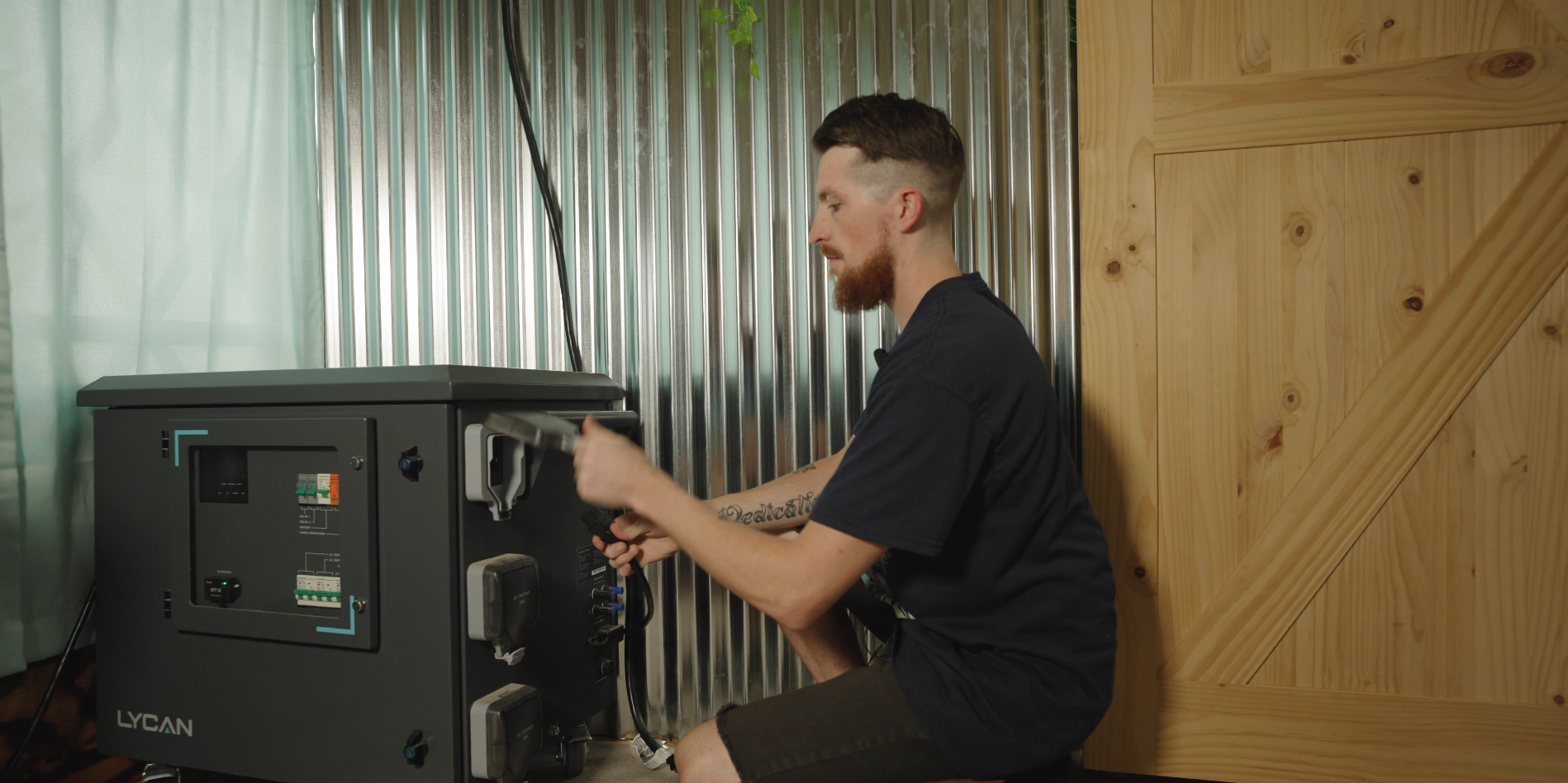 What inspired you to live a sustainable lifestyle?
[02:21-02:48 in the video]
Since a young girl, like 15-year-old, Whitney had been fully aware of the importance of Nature and realized that human beings are part of Nature. As she grew up, she was continually inspired by so many people around her and around the world. Seeing others sharing their sustainable lifestyle in using renewable energy; she decidedly followed suit.
"The number one thing that inspired me to live a sustainable lifestyle was the influences from other off-gridders, people who have already paved the way in presenting a sustainable lifestyle. I gathered I wanted something non-invasive to the environment."
What advice would you give to those who are just starting up their off-grid living experience?
[02:49-03:08 in the video]
Whitney suggested not to allow anyone to tell you that you can't do it. Which is true. There is a vast array of informative websites providing comprehensive solar information and knowledge. In addition, many experienced off-gridders are willing to share their knowledge on forums and communities, such as, the Renogy Power Plus Community. Once you make up your mind to start living off-grid, it is easy to learn and acquire all the basic knowledge for installing your own off-grid solar system.
Of course, you can also contact
Renogy support for an all-in-one solution.
Whitney is an active voice for desert and wildlife preservation – Would you like to say anything to our community?
[03:11-03:36 in the video]
"The desert is already a fragile ecosystem, and because of climate change, trees are diminishing at an alarming number."
This couple loves the desert, and that's one of the reasons they chose to build their off-grid home there. On this vast land, their dogs can run and chase freely. However, Whitney warns that climate change, pollution, and investment-recreational activities, are endangering the desert's ecosystem and trees. She worries that if we don't act now, these beautiful living Yuccas and the desert tortoises known to live at Joshua tree, will go extinct.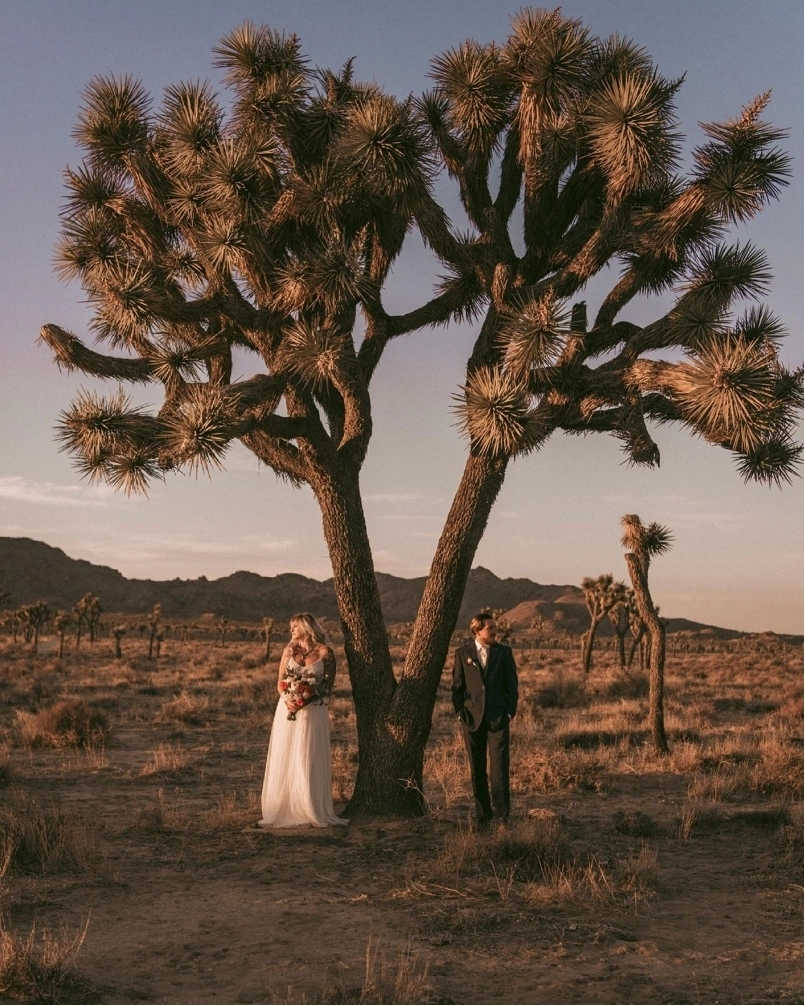 Your next step to take
If you are interested in Whitney and Trent's off-grid life and their dogs, and feel like you would like to know more, you can find them on
IG
and Tiktok
.
The core value of
Renogy is to support people's energy independence in their daily lives. Any question you may have about off-grid solar panel kits and components, or DIY installations, are welcome. Feel free to contact us.
---
Related articles:
How To Run RV Air Conditioning Off Solar
Nothing but ocean in front of us now — Ryan and Brittni's sailing adventure with Jackson, the rescue pup
Current Location? On the road –Mike & Steph's full-time RV traveling as a travel nurse family