All photos by @theAlfaAdventures
ALFA 101 Supertramp is ALFA Adventures' very own van. Founders Eric and Ian built him themselves. He is named after the alter-ego of the famous adventurer Chris McCandless, subject of the book Into the Wild, a true story that influenced an entire generation of highschoolers, Eric and Ian among them.
In their blog they describe how the book, and the movie of the same name, "had a huge impact on us. This young American's journey, however bittersweet, has had a lasting, positive influence – Ian's screen name is 'Ian Supertramp' – and we feel we are following in his mighty footsteps with our own humble contribution."
(Ian with full equipment packed into the ALFA 101 Supertramp)
Chris McCandless came upon "Magic" Bus 142 in the wilds of Alaska after having abandoned his modern, materialistic life, donating all his worldly possessions, burning the cash in his wallet, and setting off into the wilderness. He gave himself a new name: Alexander Supertramp.
Like McCandless, Eric and Ian's Supertramp was built to explore the possibilities of an everyday life that is surrounded by nature. ALFA Adventures' journey started with the goal of creating a low-impact, self-sufficient vehicle that could go deep into the wilderness; although, in this instance, it was also one which offered a degree of personal comfort and wasn't cut off from civilization or technological life. It was about getting "close to nature while ensuring maximum comfort and safety. This is not just the rolling home of ALFA; it is also our trusted base camp – the last frontier of our outdoor life, like the abandoned bus that Chris found in the Alaskan wilderness."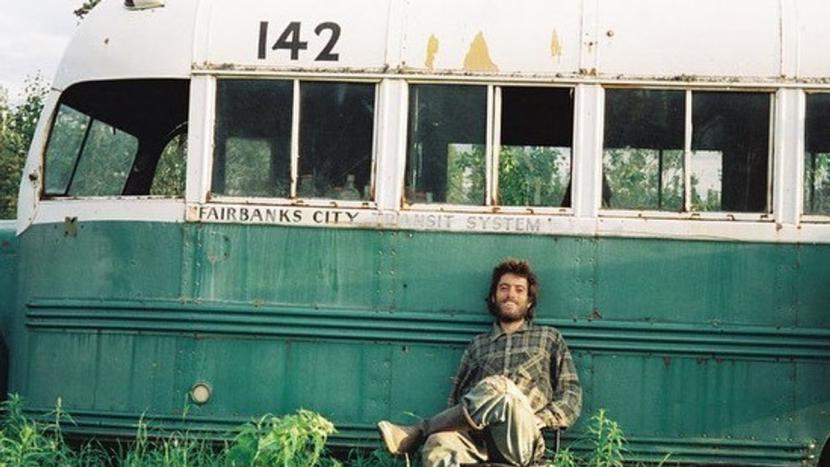 (Christopher McCandless pictured in front of the Magic Bus, Source: Wikimedia Commons)
The book and subsequent movie adaptation of Into the Wild represented a true phenomenon. Reactions were characterized mostly by love and praise, but there was some derision too: after all, not everyone dreams of disappearing to somewhere with no running water or electricity, full of mosquitos and who knows what other, bigger, scarier beasts. Still, it seems that many people had a "Chris" in their hearts.
"We have Chris in our hearts, which is why we decided to set up the camper van modification brand ALFA, in China." The story starts in 2017. Founders Eric and Ian had been spending a great deal of time traveling around the Pacific Northwest, enjoying the stunning nature and life on the road. They decided to turn their passion into something bigger. In 2018, they registered the company in the US and found a local refitting factory, where they went about creating their first two exclusive modified camper vans, naming them "The Moon" and "PDX".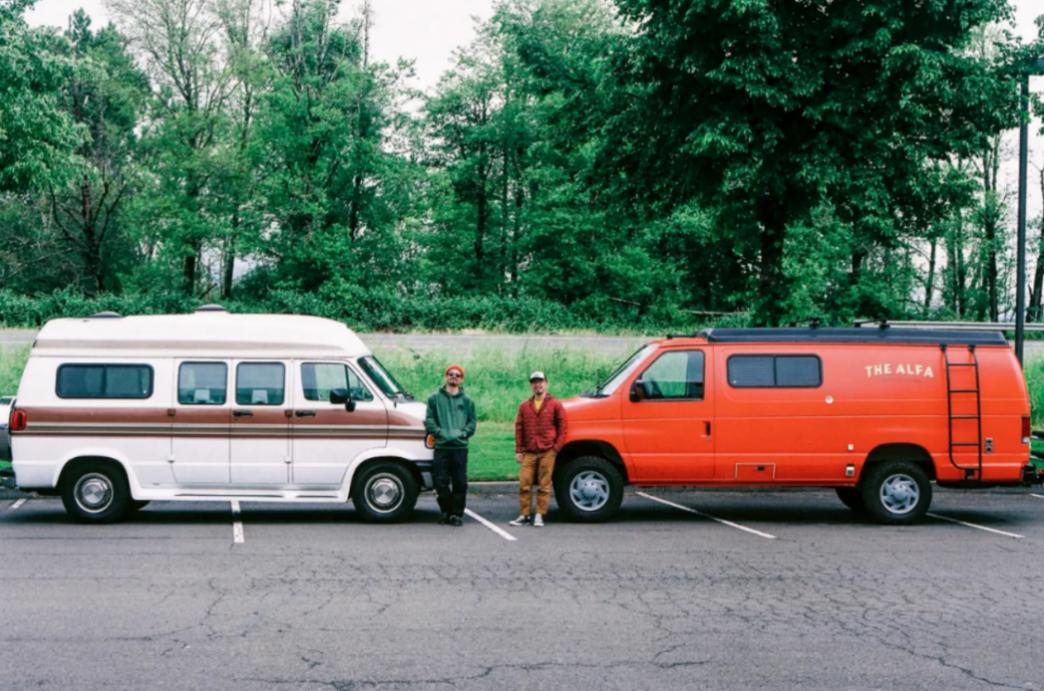 (Eric and Ian with The Moon and PDX)
In 2019, they returned to China to establish the ALFA brand there, providing professional van customization, optimizing trunk function, and generally promoting the country's nascent van life scene.
Over the following two years, the two added more comprehensive services and began a collaboration with Renogy, which introduced a whole new level of van transformation with a high-standard solar-power option for renewable electricity.
For someone freshly looking into the camper van lifestyle, ALFA explained why they selected Renogy and shared their unique point of view on choosing the correct electrical system. A camper van is not a space that's suitable for widescreen TVs, full-size air conditioners, or floor-to-ceiling refrigerators. People do rely on certain essentials, however, when they journey into the depths of nature: they want to be able to charge their phones, GPS, cameras, and laptops; when they return from hiking or skiing they want to boil some water and get warm. A smart and well-designed solar setup can enable this kind of comfort and so make for a more guaranteeably enjoyable trip.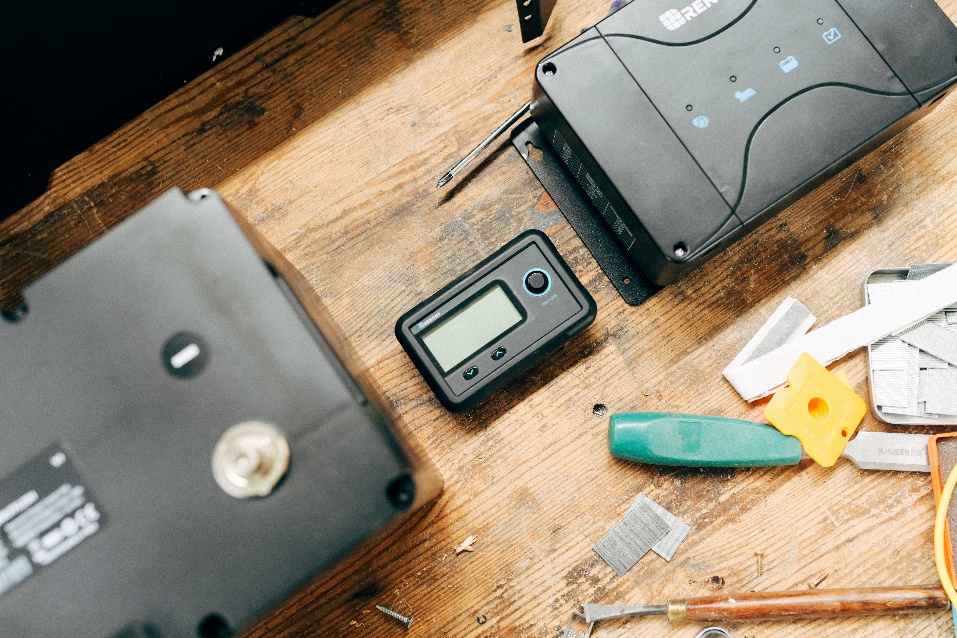 (Renogy Lithium Iron Phosphate Battery, Battery Monitor, DC-DC On-Board Battery Charger with MPPT)
Having appropriate electricity for van life means having enough electricity. It's not about blindly pursuing ever greater amounts of power. More power means bigger equipment and therefore more space. And no matter how big you go, a van is never going to supply the amount of power you use at home.
ALFA are also highly active in the van life tour space. They are committed to the promotion of the culture to domestic audiences. "When we brought ALFA to China, we made sure the business had firm foundations. We were the first van customization specialists to build our own refitting factory. We created our first customized van and used it inspire a new generation of van life enthusiasts."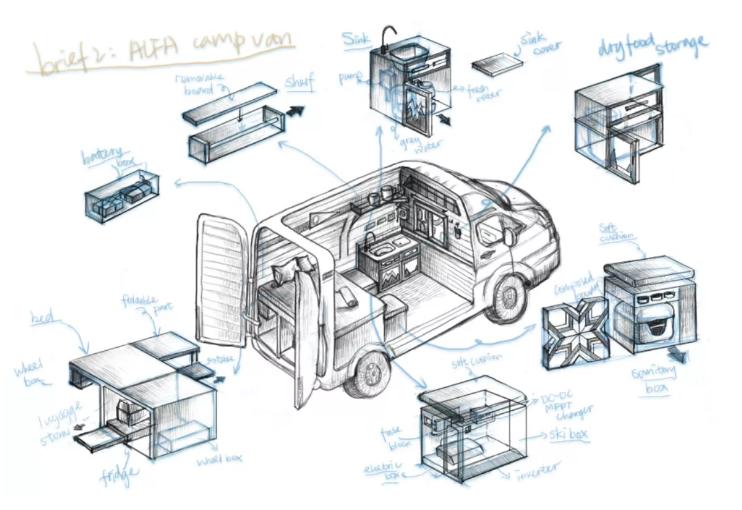 (ALFA camper van design brief)
The birth of each newly revitalized camper happens in three main stages: design finalization, material selection, and final transformation. "For us, the most difficult part is the design stage. We need to know the customer's needs in as much detail as possible. For example, if the owner wants to put a bicycle in the van, we need to consider the application scenarios of the bicycle, and how to include bike storage cleverly enough not to affect other basic functions. And so it is with every item on each individual customer's list of specifications. It's difficult but we make it work!"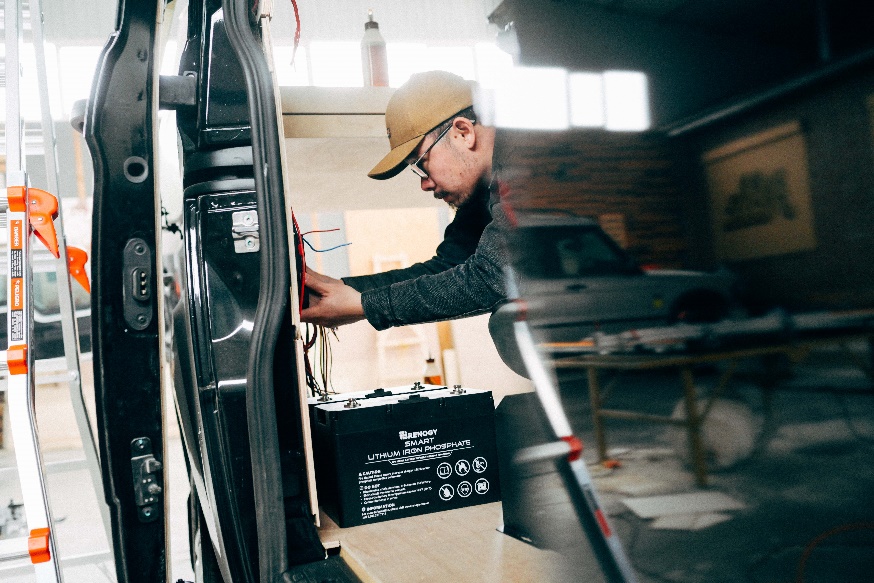 (Ian connecting Renogy batteries)
ALFA know that fully living on wheels is something most Chinese will find difficult to warm to, at least in the short term, in a culture which is obsessed with real estate. Specifically, the Chinese Central Plains culture is based on the Confucian idea of farming life being at the center of things. Despite a nomadic tradition that was woven into the fabric of Chinese culture over successive dynasties, the mindset of those from the Central Plains and Chinese people in general makes it difficult to let go of everything to dive headlong into nomadic life. For now, at least.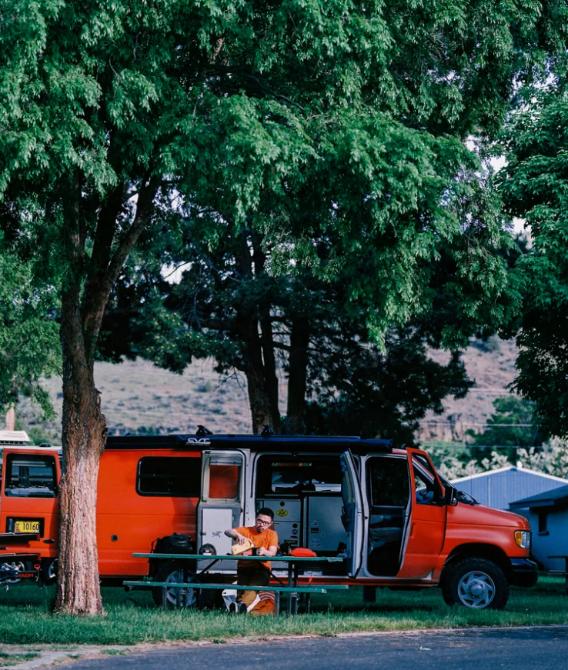 (Ian with The Moon at a campsite)
So, driving a camper van to experience van life in your leisure time is a good compromise between normal and nomadic lifestyle.
Eric and Ian have a deep feeling that even in the city, people can also use camper van as an activity base camp to pull people out of the city life for a short time, leave the room, leave the steel and mud, and go to the natural environment in the city to create an urban oasis of their own.