Introducing the Renogy ONE! Installation & Basic Set-Up
Calling all solar energy tracking and home automation nerds, wannabees, and anyone who wants to simplify their off-grid solar energy monitoring! Renogy's latest device has your name on it. The
Renogy ONE is the all-in-one brain of your off-grid home, boat or RV. We just integrated one into our camper's solar powered system and are totally nerding out.
Using the integrated 4" HD touch screen, or our smartphone connected through the DC Home app, we can monitor our solar production, energy usage, and control of all our connected devices and appliances with easy-to-read visuals and real-time data.
The Renogy ONE combines all of the tracking and performance data of multiple components (i.e., batteries, charge controller, inverter, smart battery charger, DC to DC charger) into one compact unit slightly larger than your hand. It can connect wirelessly through either built-in Bluetooth (when combined with newer Renogy components), via
BT modules (with older Renogy components), or even hardwired with Ethernet cables.
By enrolling in one of the
Smart Plan options, you can add gadgets (aka smart accessories) and services that allow you to remotely turn on/off AC or DC appliances, make sure the lights switch on at dark, the coffee pot or instant pot comes on at a specified time, and even sound an alarm (and/or send a notification to your phone) if someone unexpectedly enters your home or RV.
Using Wi-Fi, the system automatically uploads historical energy data even while you're off the grid so you can monitor your system in real time for better energy management, wherever you are, with the free
Renogy DC Home app on your smartphone.
Do I need a Subscription Plan to use the Renogy ONE?
While the
Renogy ONE works as a solar energy production / usage monitoring device and allows you to connect up to three 30V DC appliances without a plan, there are several gadgets and additional services that come with your subscription plan. You can choose a plan at the time of purchase or add it later.
What comes with the Smart Plans?
When you add the
Smart Basic, Smart Energy or Smart Life plan to this little space age device, you can take full advantage of its potential. Subscription benefits include historic data tracking, smart home automation and entry detection devices, video chat support, Renogy coupons for future gear / upgrades, and more. The Renogy website offers a complete list of all plans and options, which can be a bit overwhelming if you aren't familiar with all the "smart terminology." Below is a brief overview of the smart gadgets and services to get you thinking about how this device could fit into your life.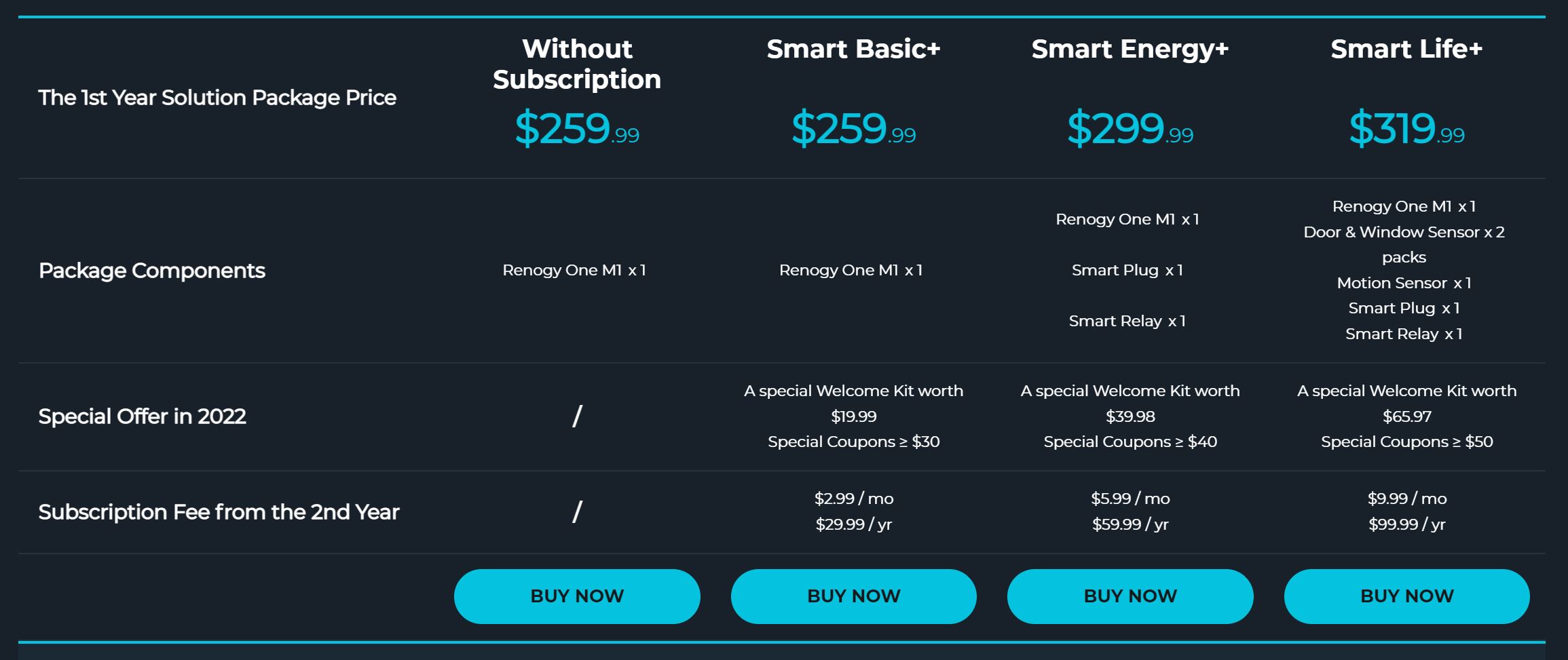 ●Get a Virtual Assistant + Troubleshooting Recommendations: Both of these services come with all of the plan options and allow you to find the information you need when you're off-grid, such as: solar yield forecast, weather forecast, campground locations nearby, and more. If any issue occur to your system, diagnostic data will also be recorded via this off-grid home energy monitor, helping you articulate the problem efficiently to Renogy tech support when needed.

●Track Your Historical Energy Data: This device allows you to view historical data about your solar power generation, product performance, charging / discharging cycles, power consumption trends and more for better energy management. The Smart Basic plan allows you access to the last 200 days of data (i.e., approximately 6.5 months), the Smart Energy provides you 1 year of data, and for real energy tracking nerds, the Smart Life plan allows you a lifetime of information so you can monitor and optimize your carbon footprint! This last plan is ideal for anyone with an off-grid home in one location, or if you frequently return to the same places with your RV at around the same time of year.

●Automate Your Home Appliances:
Smart Plug

: A lot of energy and money gets wasted each day by appliances running at home when you are at work or play. Combine the Renogy ONE with the

Smart Energy

OR

Smart Life

plan and you can monitor / program / automate one or more 120V AC appliances in your home, boat, or RV while you are away by connecting each appliance to a Smart Plug. By connecting these devices and creating custom functions to fit your daily routine for off-grid living, you can save energy…and ultimately money. You can also turn on/off any automation you've established — that way if your daily routine changes or solar gain is low and your appliances are using too much energy, you can turn them on/off remotely. Note: Even without a plan, you can add a maximum of three 30V DC appliances directly to the panel relays on the device — allowing you the option to switch on/off connected appliances in multiple ways (e.g., physical switches or via the DC Home app).

Smart Relay

: Add an additional Smart Relay to give you even more programmable home automation control. While the Renogy ONE has 3 built-in DC relays, this device augments this by providing you with up to 3 additional relays that can accommodate 250V AC or 30V DC appliances (16A max). This relay is included with both the Smart Energy and Smart Life plans.

●Feel Safer with Motion & Door / Window Sensors: Do you live alone or want the added security of knowing if someone is messing with your home, boat, or RV while you are away? With the addition of the Smart Life plan, you get all of the above plus a
Motion Sensor that you can program to send you an alert and/or sound an alarm when any unexpected movement is detected within your monitoring area. With the Door & Window Sensor installed, you can program it to sound an alarm and/or receive an alert when a door or window is opened unexpectedly.

●Extend the Life of Your Batteries: One of the recommended features of the Renogy ONE is an automated alarm when your battery bank approaches the recommended depth of discharge (DOD) for your battery type. This alarm can be audible within the home / boat / RV or sent to your phone as a notification, allowing you to remotely switch off appliances while you are away. By reducing the number of times your batteries go below the DOD will greatly extend their life and get the most from your battery investment.

●Generate Your Own Electricity + Get $$$ Back! With the Smart Life plan, you are enrolled in the Helios Rewards Program and earn more
Renogy Rays (reward points) with each kWh of electricity you generate. GENERATE MORE = EARN MORE RENOGY RAYS! Redeem Renogy Rays for gift cards and Renogy products. An annual power generation of 300 kWh will earn you 300 x 10 = 3,000 Rays. With the Helios program, you earn an additional 900 Rays, which are worth $39 a year after joining and you save up to 39% of the subscription fee every year. An annual power generation of 660 kWh will earn you 660 x 10 = 6600 Rays. With the Helios program, you earn an additional 3,300 Rays, worth $99 a year after joining and all the subscription services are entirely FREE for you. The program is Renogy's way of saying thank you for taking charge of your own energy independence and supporting their innovative company.
How do you install the Renogy ONE?
While it seems space age, this device is quite easy to install and works with Renogy components that have built-in Bluetooth (e.g.,
12V 100Ah Lithium Iron Phosphate Battery with Bluetooth) OR those, like ours, which use a BT-2 module (e.g., standard 12V 100Ah Lithium Iron Phosphate Battery). Note: You can also use Ethernet communication cables to hardwire your components to the monitor. The Quick Guide is very clearly written and walks you through various installation configurations, depending on which components you already have or are planning to purchase. Check out our installation and basic set-up video to get started.
Once you've chosen a wiring configuration which works with your system, simply connect the Renogy ONE to a 12V (≤16V) power source (e.g., LFP battery, fuse box, bus bar), then mount it on a wall within 50 feet of your components so that the Bluetooth signal is strong enough. It comes with a 15 foot cord which can be lengthened, if necessary, with a little handy work.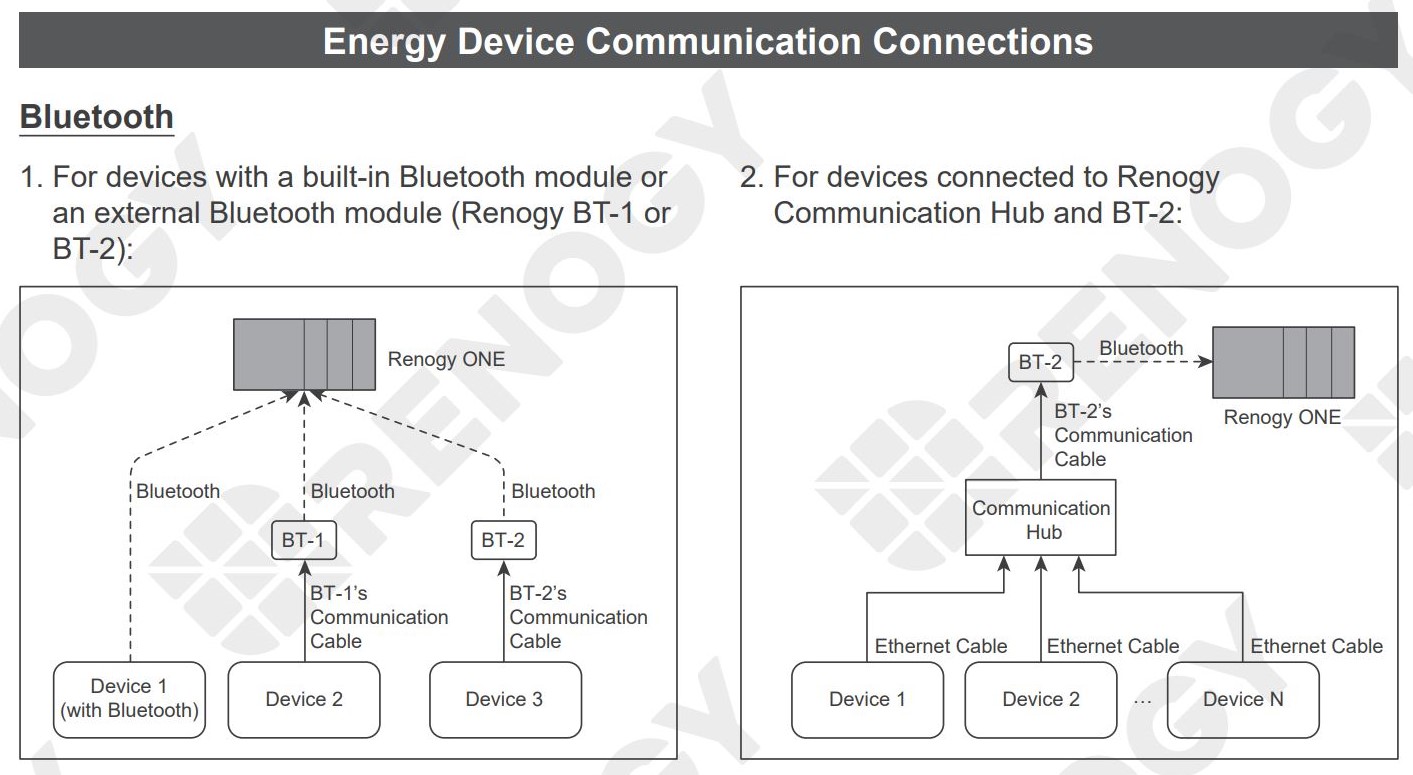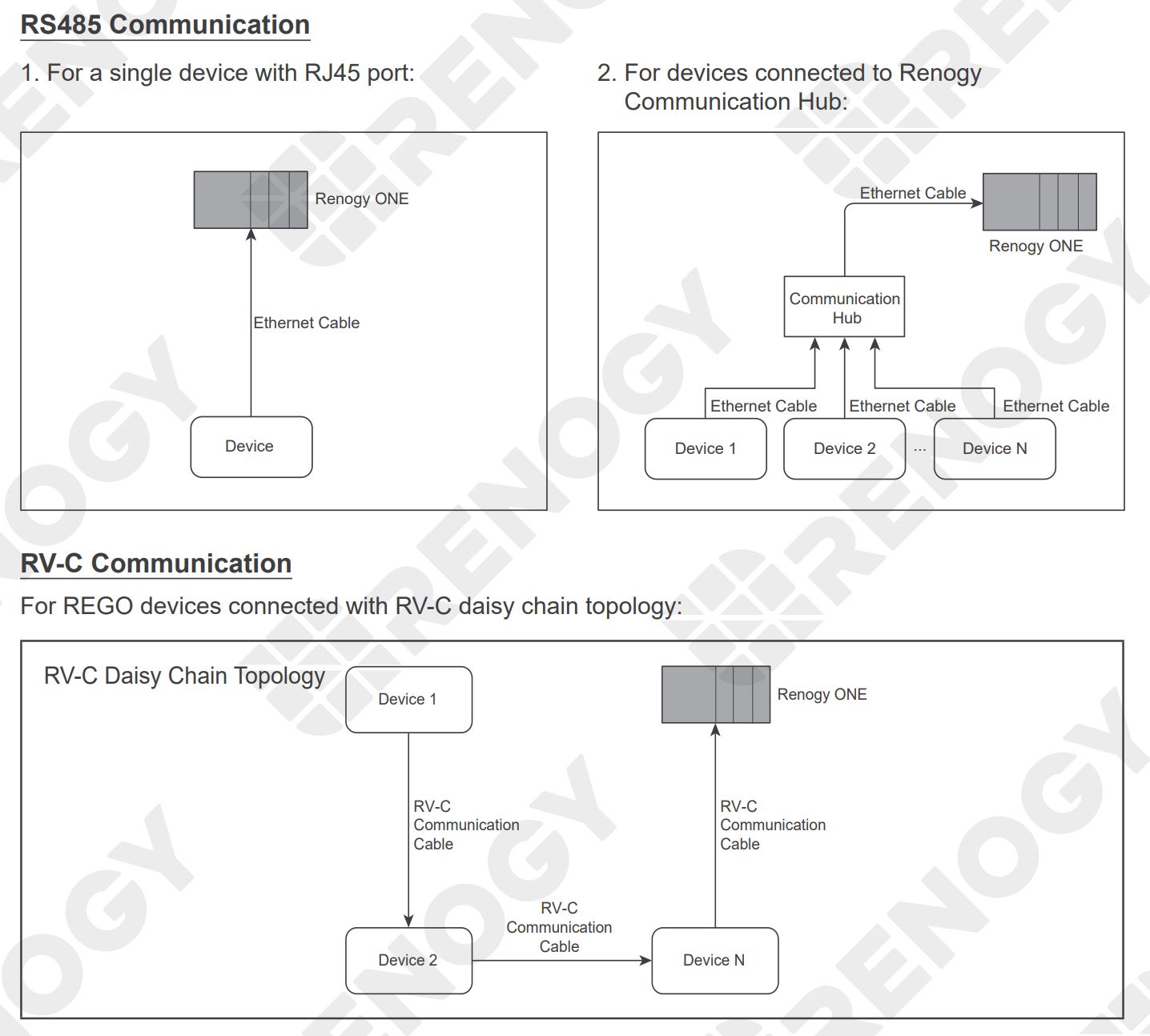 Then, use the "wizard" on the Renogy ONE to download (or update) the
Renogy DC Home app on your smartphone. Follow the steps provided by the wizard and you'll be tracking your energy data history in no time! Once you've done this, you will be able to control the Renogy ONE from wherever you are, provided that you have a mobile signal. Note: If you use a hotspot on your phone for your remote Wi-Fi like we do, you may need to switch on "Extend Compatibility" on your smartphone for the Renogy ONE to be able to connect with it. This function may be found under your hotspot settings.
If you'd like to connect up to three 30V DC appliances such as a fan, lights, or TV, you can simply wire them into the back of the device as we've
shown in the video. With these connected, you can use the physical switches on the Renogy ONE or the Renogy DC Home app to turn them on/off when you are away from home. You can also program "scenes" for each appliance to automate their daily functions such as turning on the lights just after dark, or before you get home for the day.
Finally, if you add the (optional) Smart Home gadgets described above (
motion sensor, door & window sensor, smart plug, smart relay) which come with the Renogy ONE Smart Energy and/or Smart Life plan, a few additional steps are required to set them up. The Renogy ONE wizard will walk you through this process when you choose "Add a Device." Note: You may also upgrade your plan later (or buy additional gadgets) if you want to add them into your system now or in the future.
So whether your home is stationary, floats, or rolls like ours does, this little device can help you keep tabs on the components within your solar powered system, help you become more energy efficient, allow you to automate or remotely turn on/off some appliances, and even make your home more safe and secure!
Shari Galiardi & David Hutchison have turned their higher education backgrounds, desire for life-long learning, and thirst for adventure travel into writing, photography, video production, and public speaking tours from coast to coast. Known to their friends as simply Shari & Hutch, you can learn more about their full-time, solar-powered adventures on their website at
freedominacan.com. Or, follow them on Facebook, Instagram, and YouTube as "Freedom in a Can, LLC."