All photos by Ryan and Brittni
Ryan and Brittni started sailing the world with their German shepherd rescue puppy, Jackson, on their Beneteau Oceanis 46, teaming up with organizations for animal rescue since 2019. After finishing their sailing tours in Europe and parts of Africa within a mere two years, they were now sailing across the Atlantic Ocean to explore the completely off-grid Caribbean.
Due to their former experience of installing solar panels on their old house, they started duplicating that success on the boat. Renogy came into the picture with the three-year-old flexible solar panels, "Three years on, we've sailed all over the Mediterranean and through the Atlantic Ocean. We've been using our boat hard. With these 640 W solar panels, we've generated more than 3,000 kWh of electricity in total." Ryan added, "We were really happy to have them around."
What inspired you to go off-grid and sailing across the world?
Back in the old days, Ryan and Brittni lived an ordinary life, working, relaxing, and paying bills. But when they were heading towards their thirties and were hit by the tragedy of losing a close friend, they started to change their thinking about life.
Brittni recalled: "So we just decided, it was time for a big change, and doing something fun and crazy before we get too old to enjoy a good time. When our friend passed away, we knew it was just a must for us to stay true to life and to do the things that really matter to us." They made up their mind to go beyond their limits: Get a boat, sail the world, and go completely off-grid!
Could we talk a bit more about the off-grid project? Is there any preparations before going off-grid?
Ryan's got a bit of background doing electricity. But this time, most of it was only about searching online for what he needed, "You learn a lot from YouTube. And for me, a great bunch of tips were from the videos on Renogy's official YouTube channel and the Renogy DC home app." He also pointed out that one thing he loved about Renogy's videos was every nuance within that was well captured and simplified, and this gave him the only little bit of reassurance that he needed.
(Ryan and Jackson on deck)
Do you mind sharing your Renogy experience on the DC home app?
They saw people sharing their off-grid lifestyles in the Renogy community. "It's amazing when you jump into the circle and witness how many individuals are living off-grid; and you're fetching that motivation readily and pass it to others in need as well," Brittni told us. It was also of great help while Ryan was coping with the solar system: "I did ask a few questions for advice on the app when the needed answers popped out, like immediately. You guys really have it. And nothing is more wonderful than to just get the needed solution without delay while installing something. Even though every device of yours is simply plug and play, there is still lots of fun using it. And this is also the moment I get that reassurance again.".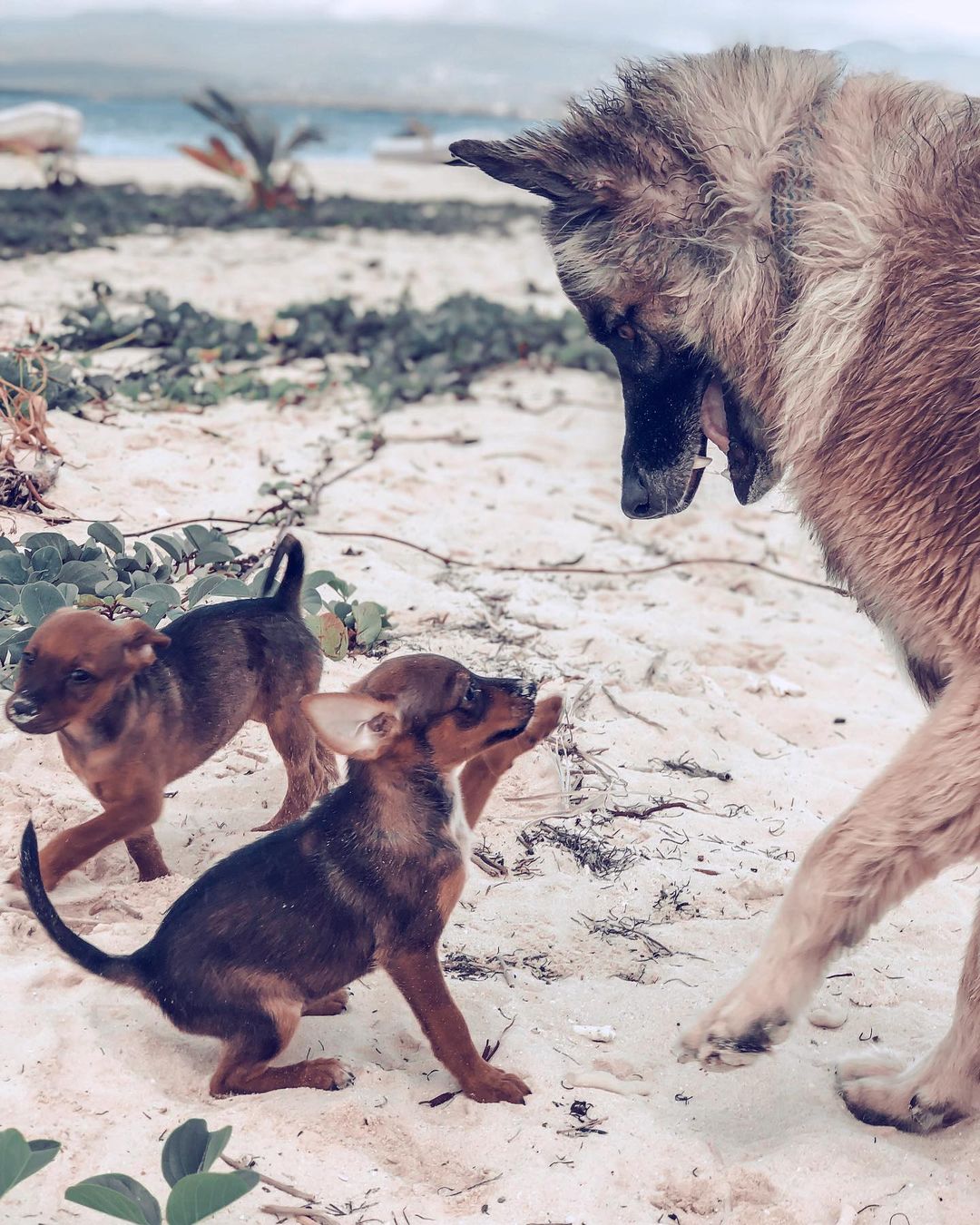 (Puppies first beach day)
What's the proudest design on your boat?
For Ryan, the proudest design of this tech guy was undoubtedly the solar panels, while Brittni's favorite, however, was the layout of the boat. " It just feels like home. You just sometimes forget that you are living on a sailboat with that coziness and comfort, cuz I don't want to sail around 24/7 at all," Brittni explained. When the design came to realization, they finally got a nice big kitchen, a little couch and chair set, two big bedrooms, and a comfortable stand-up shower kit. That's how the lithium upgrade represents such a huge thing. Solar energy replaces heat energy from conventional generators and gas stoves which is very expensive to produce, especially on the ocean, and everything is just ready to use. "When you're living on a boat, those tiny little comforts would make such a difference," she added. She also told us that the next big goal would be to upgrade again to hook the air conditioner up.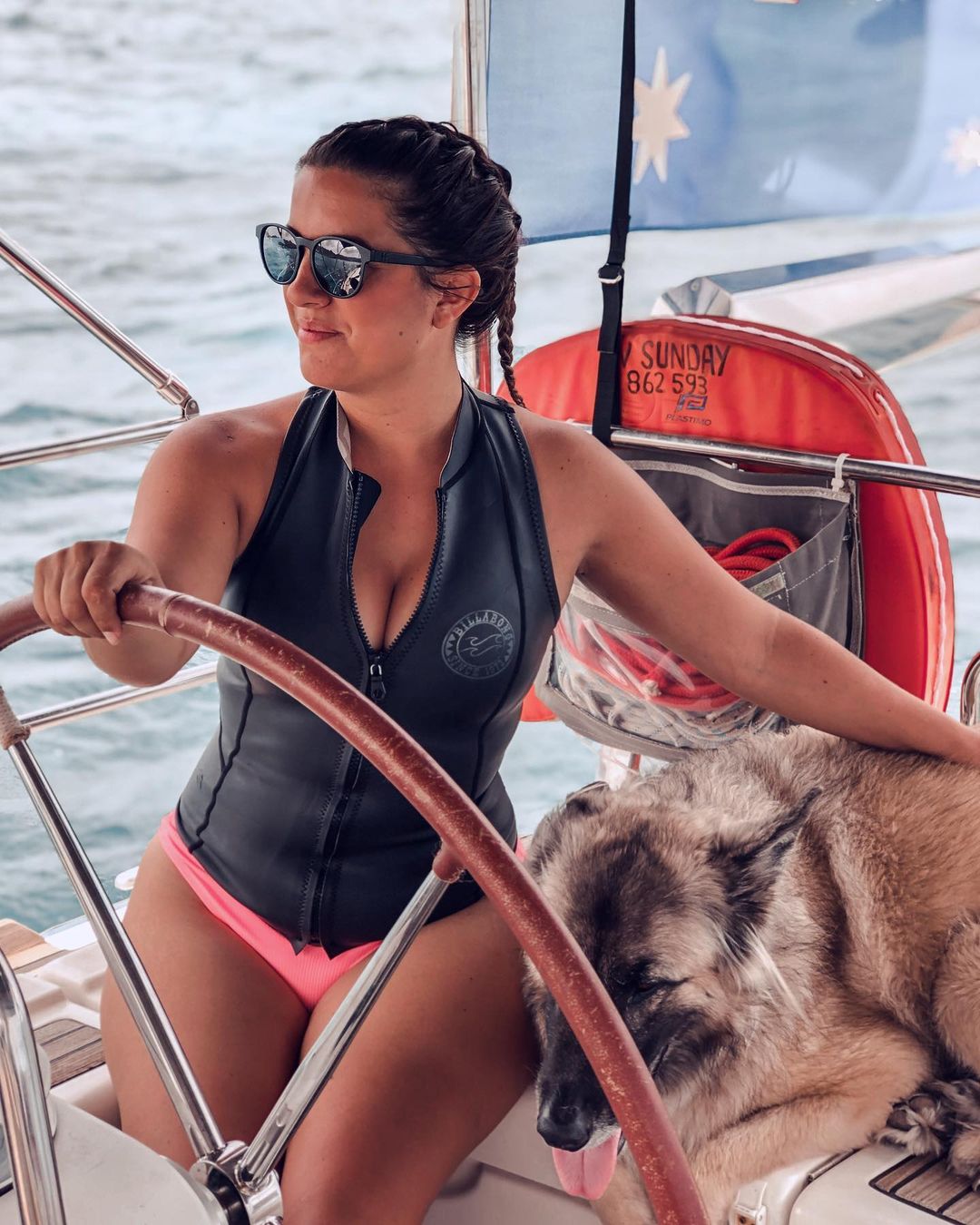 (Rrittni sailing with Jackson at her side)
How did you get to know Renogy?
When Ryan and Brittni bought the boat, no solar panels were installed whatsoever. Three years ago, they started with a series of searching and researching, and ended up with Renogy flexible solar panels.
When they were still urban dwellers, the idea of going off-grid was already imminent. In terms of their contact with solar energy, their last house was their first solar project. Although lots of people had water generators or wind generators, they preferred flexible solar panels after doing detailed research. "Speaking of the Renogy lithium batteries, I woke up this morning and they are at 80%. It's just like they have almost been fully charged after a night," Ryan told us willingly.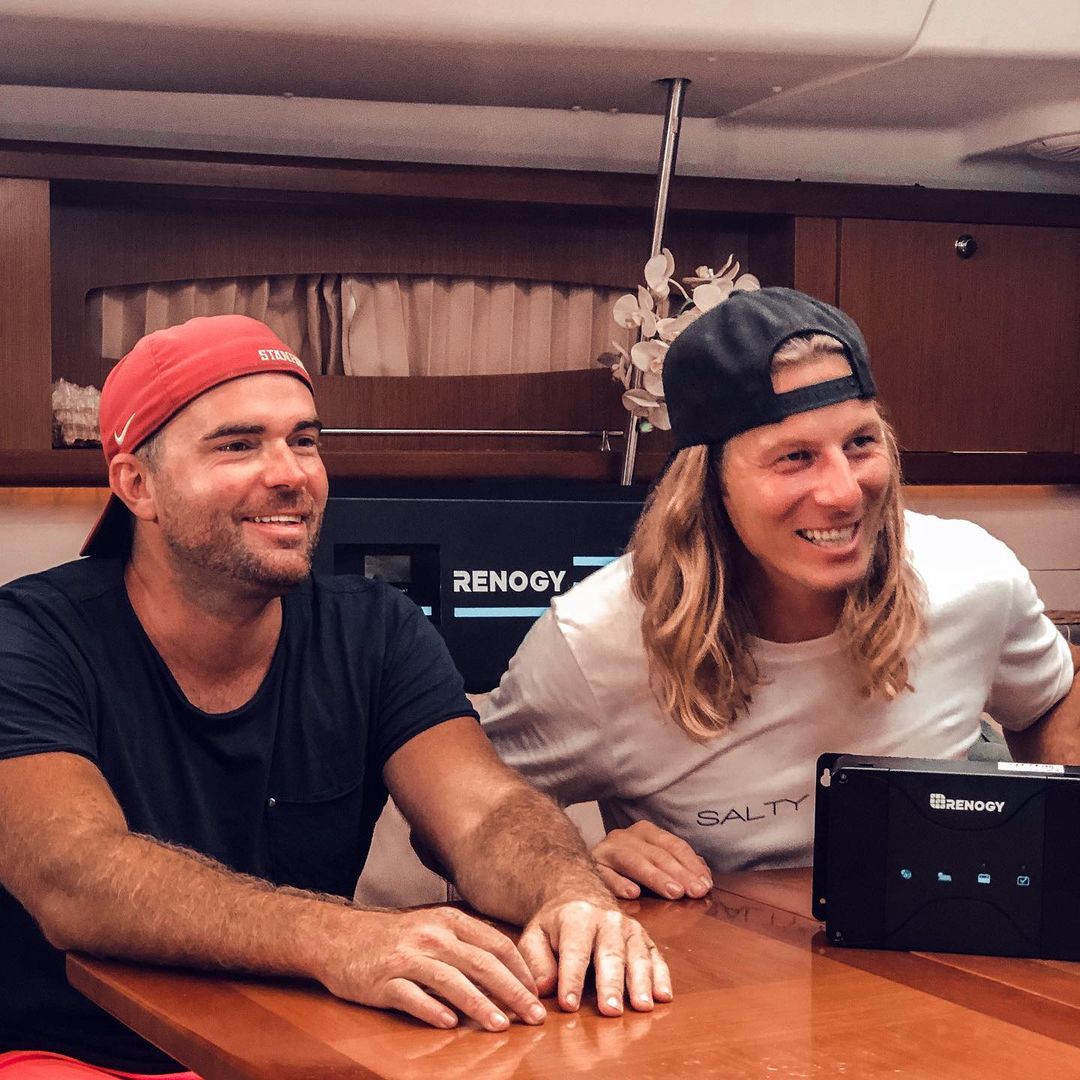 (Ryan doing Renogy lithium batteries upgrade)
Why did you choose us three years ago?
Ryan was advised to look for rigid solar panels with concern about durability on the boat. After tons of research, he chose Renogy flexible solar panels otherwise. First of all, they looked durable and have proven to be so that they were still at their full capacity after three years. Secondly, they were cost effective when compared with quite a few other brands.
Besides all this, Ryan told us they chose our brand mainly because they liked the flexibility, the rigidness, the different texture of the panel top, and also because of the fact that Renogy had invested a lot in the research and development of products. "We bought the panels, they are fantastic and that was why I contacted you guys again to replace all the rest of our equipment. The only thing we needed originally with the lithium batteries was a DC-DC charger but we ended up replacing everything with Renogy. I think at least it would be good for us to fill life with your products. I'm really excited about that. With your solar panels, we can move by the wind."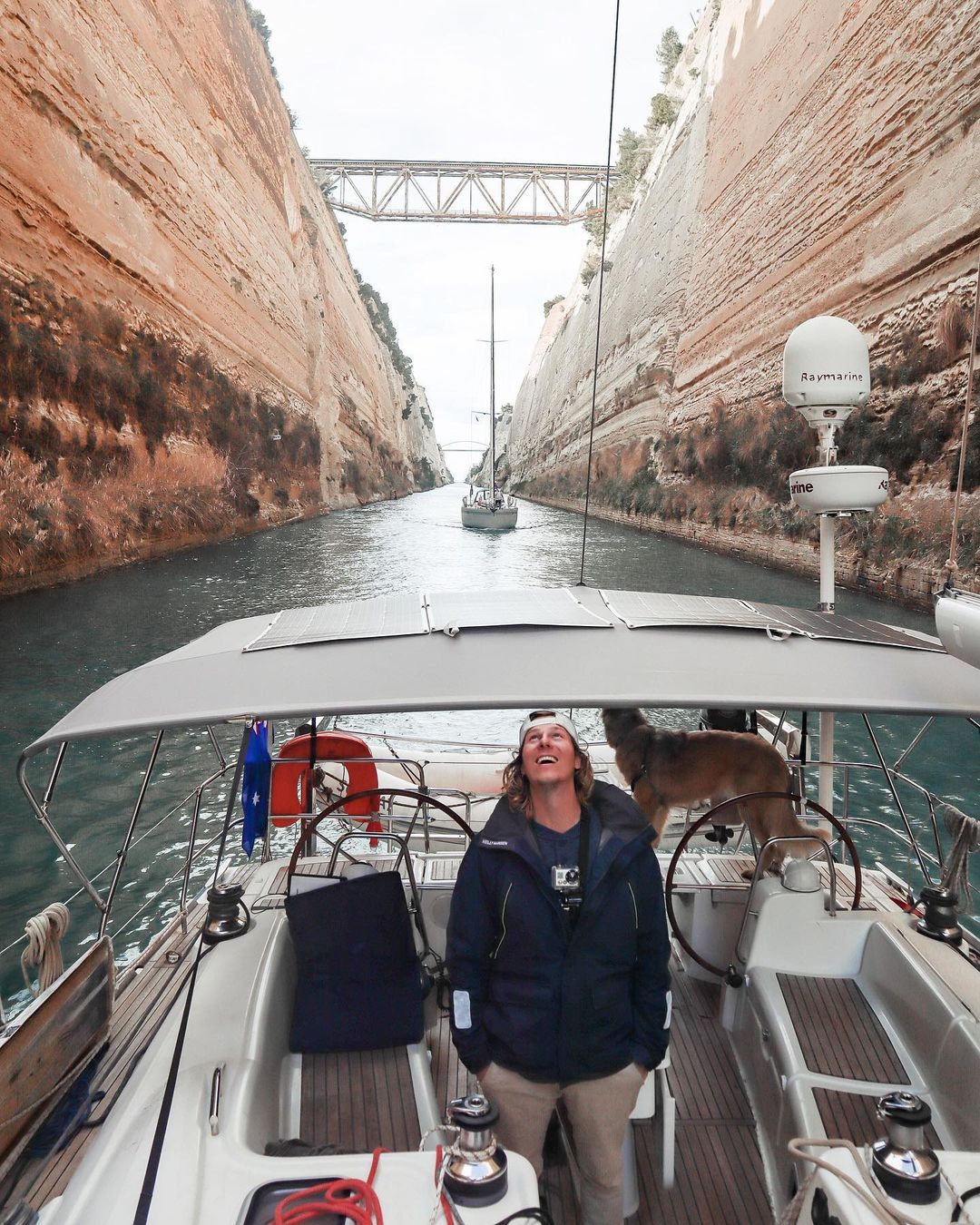 (Solar panels installed on top of the boat)

Is there any special advice for someone seeking to go off grid or want to start their boat life?
A piece of advice from Brittni: more is better. "If you can afford it, go within your budget. But more is better." It's true that the more power you have and the more sustainable you become, the further you go with your adventure. When you figure out how to make use of it, you will become hungry for it. Brittni added, "Every single person we know on the three-year sailing tour is always looking forward to upgrading their system. Everybody starts small to save money, but no matter what, you'll always use it," Ryan encouraged those who want to start an off-grid lifestyle to just do it: "Get as many solar panels and batteries as you can." Here is one thing to keep in mind: Make sure you have more solar panels than batteries, but not otherwise.
Just go off-grid! After all, what's life without whimsy?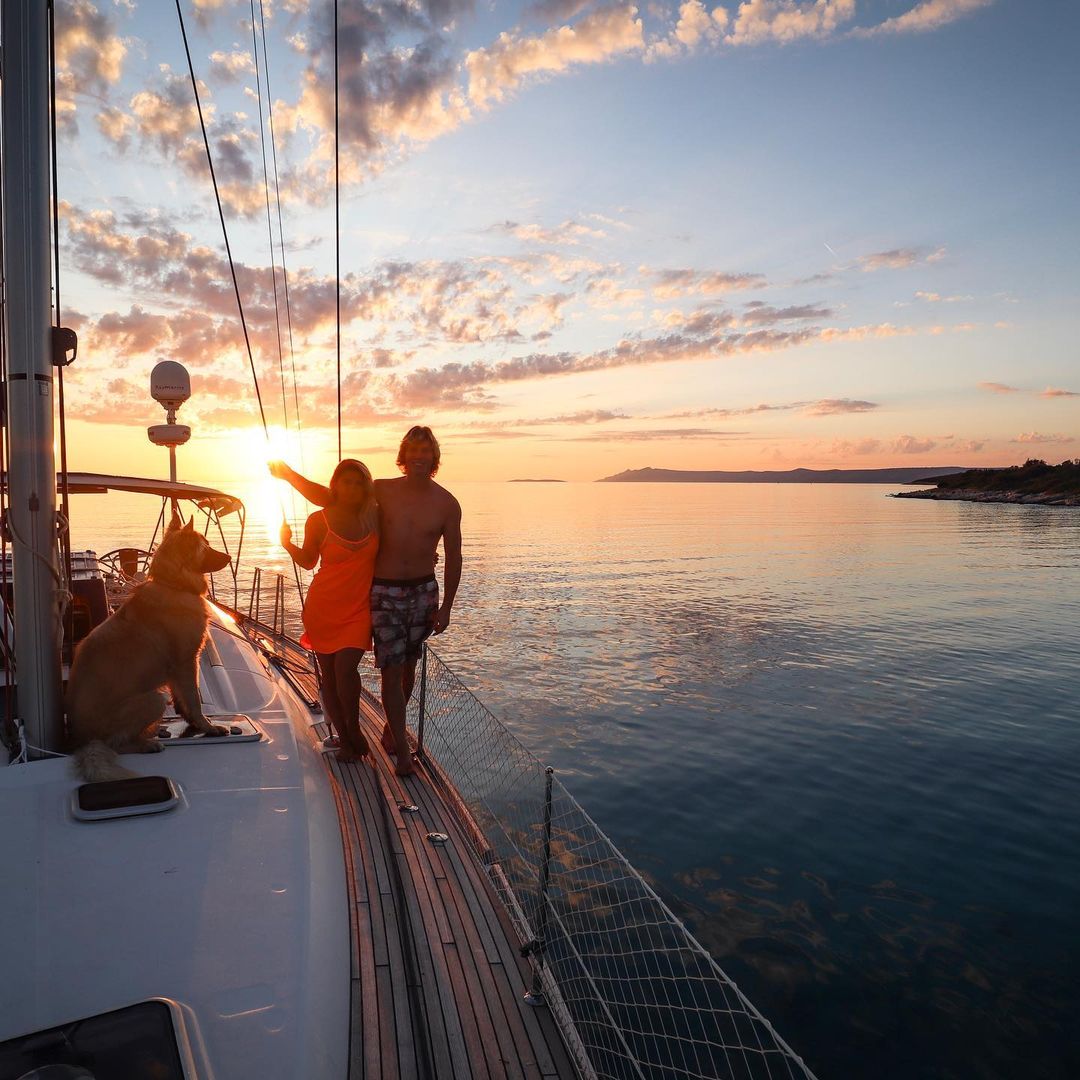 (Birthday photo taken at sunrise)