All photos by @happyhomeboddies
Happy International Women's Day!
While any day is a fantastic occasion to celebrate the women in our lives, International Women's Day on March 8th provides Renogy with yet another reason to share a story from one of our users to appreciate women's incredible achievements and inspiring journey.
Many of us have fantasized about becoming explorers or abandoning our ordinary lives. Whenever we catch a glimpse of stunning landscape and travel photos online, we may think to ourselves, "I want to be there." Fortunately, Francesca is one of the few who has brought this dream to fruition. She is a full-time traveler who lives on her converted school bus with three dogs.
(Francesca sits on skoolie's 10ft bench with her 3 dogs)
She got the idea of going off-grid after watching a documentary film. The documentary Expedition Happiness, released online in January 2018, presented a travelogue about an amazing young German couple attempting an epic road trip across North America with their dog in a refurbished school bus. She resolved to follow a similar lifestyle after seeing this film.
"I was miserable in my job, working my life away," she joked. "I have three dogs, going on trips is difficult since I have to get somebody to watch all three of them. Two months later, in March 2018, I contacted some contractors and bought the bus to begin work on the bus conversion. The bus was initially intended to be used just on vacations and weekends. By the time it was ready in January 2019, I had moved to Colorado and was living aboard on the bus as if it were my home. It's just a house or a house on wheels that has been parked for a bit. So that's how it all started."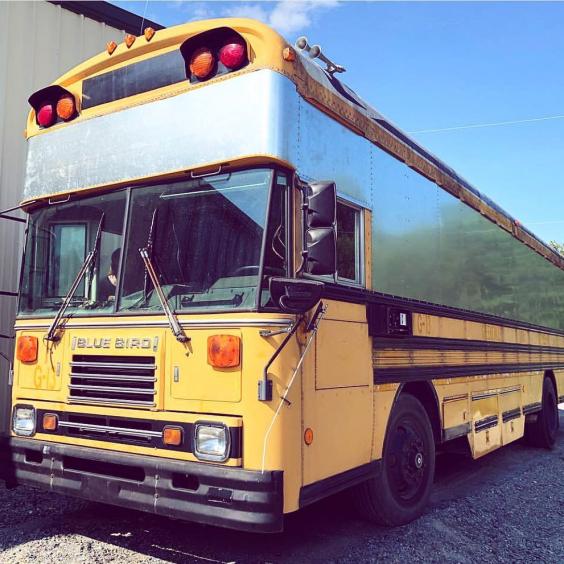 (The skoolie with the roof raised and window sealed)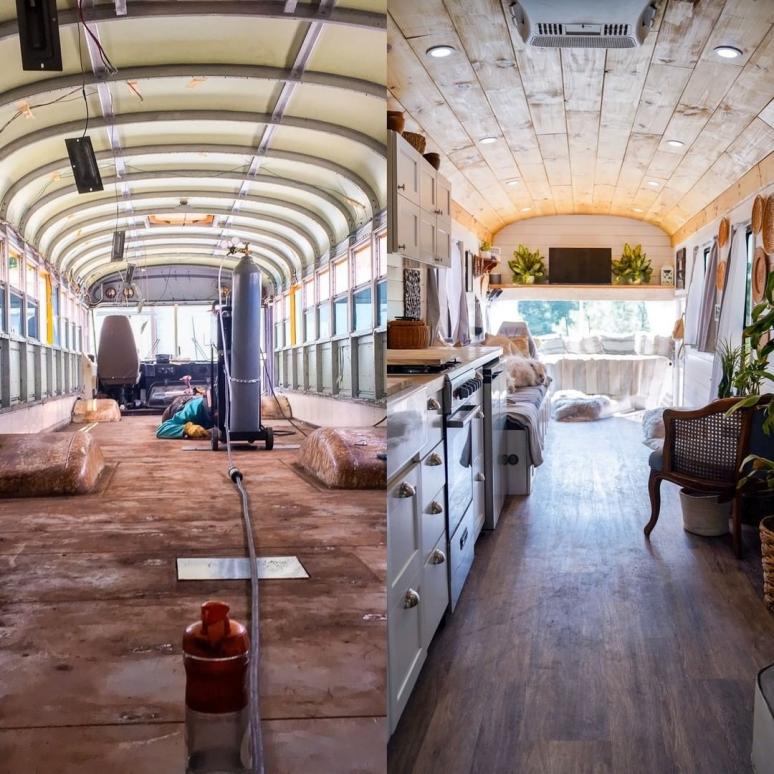 (The interior of the skoolie)
Francesca was quite invested in the conversion effort at the time. She created an Instagram account to share and document her journey, which began with merely posting the interior design of the project."Because that's one of my passions," Francesca expressed genuine enthusiasm about making the design herself, "It's like a pastime. It was a lot of pleasure to design every part of the bus."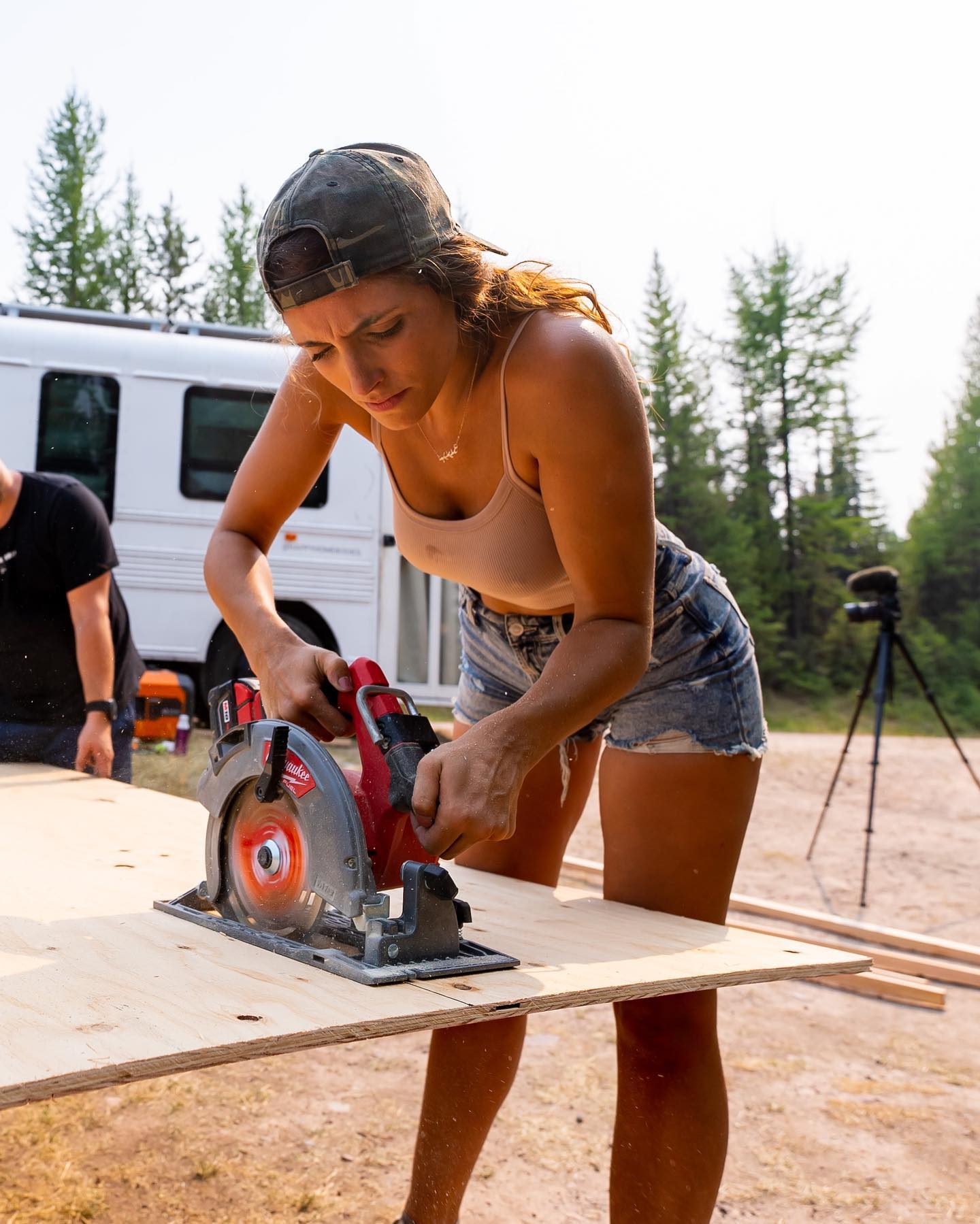 (Francesca cutting plywood for upgrading the bus)
Francesca especially developed the bus arrangement for her dogs. By ensuring that the layout was as open as possible, she tried her best to avoid the predicament of a crammed walkway, so she wouldn't get frustrated with the dogs being under her feet. She set aside time for eating and walking regularly. A fixed schedule provided dogs with an environment that was similar to that of a typical home. She also explained: "I could imagine people in a smaller space needing to add more walks in there," she added, "When I downsized, I was well aware of this. My Great Pyrenees cannot be in extremely hot spots or confined spaces. So, I travel to places where the weather is cooler so that he can live comfortably. My dogs are my priority. I knew they would be comfortable on this journey." But in all seriousness, having three dogs added a sense of security to her to travel alone. "Whenever somebody asks about safety, I always joke that anyone planning to break into our bus will hear our dogs and move on to the next house. Trust me. It's not worth it to mess with these three!"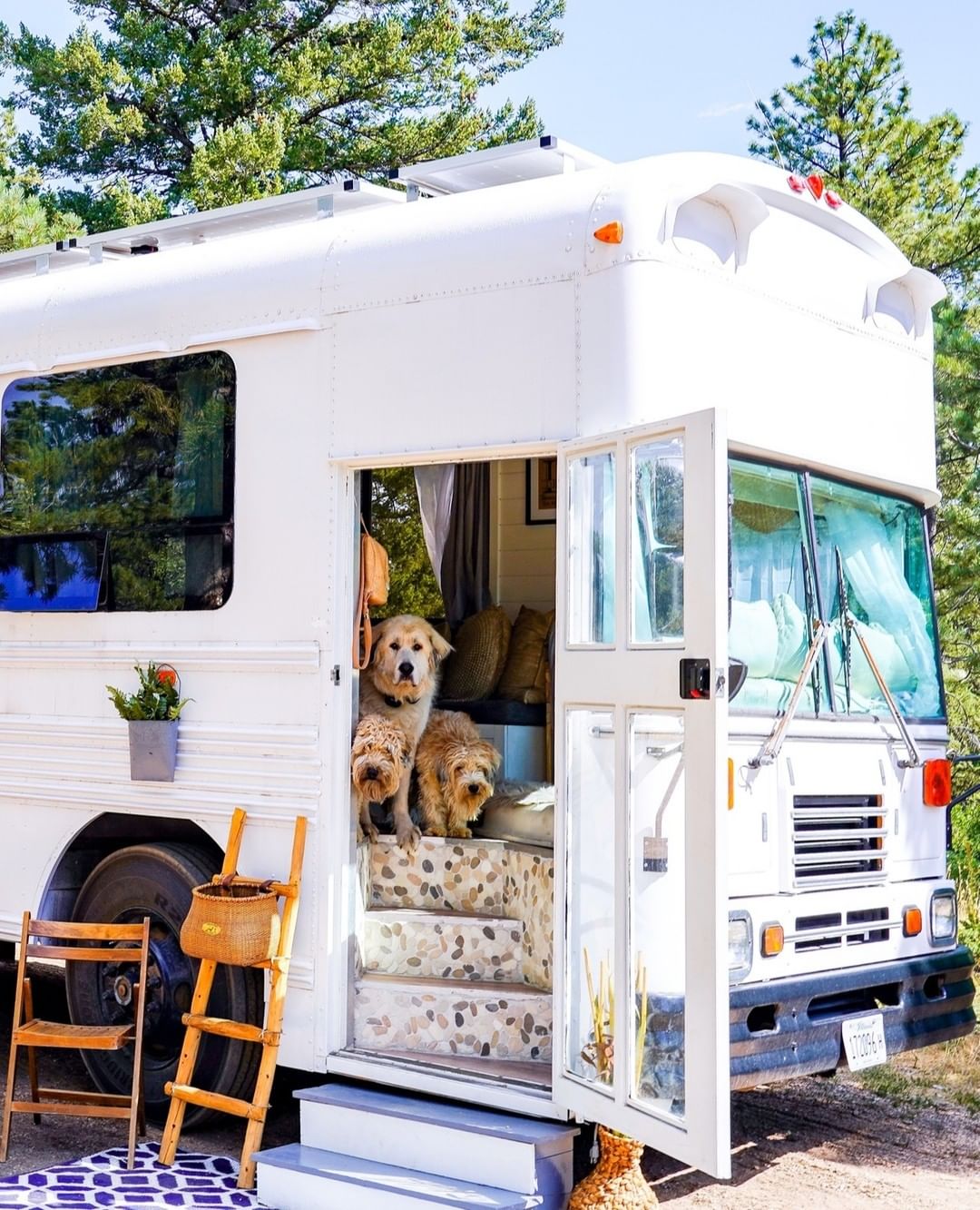 (Magoo, Murphy, and Sully stand near the front door)
Things didn't change overnight. It took Francesca over an entire year to be fully adapted to this new lifestyle. "In the first year, I started by parking at RV parks while my partner at the time and I both worked jobs," she explained, "I already worked remotely while he worked at an actual office, so we were usually plugged in. Then in the second year, we both got remote jobs and started traveling full time. That's when I first became aware of solar power. And the initial setup was not quite right for full-time off-grid living, so we did further research and found Renogy eventually. In my second year, I quit my job working for an insurance broker as a remote communications manager, handling employee benefits communication. My social media accounts grew quite a bit and I decided to devote all my energy to social media full time and have been creating content and working with brands ever since."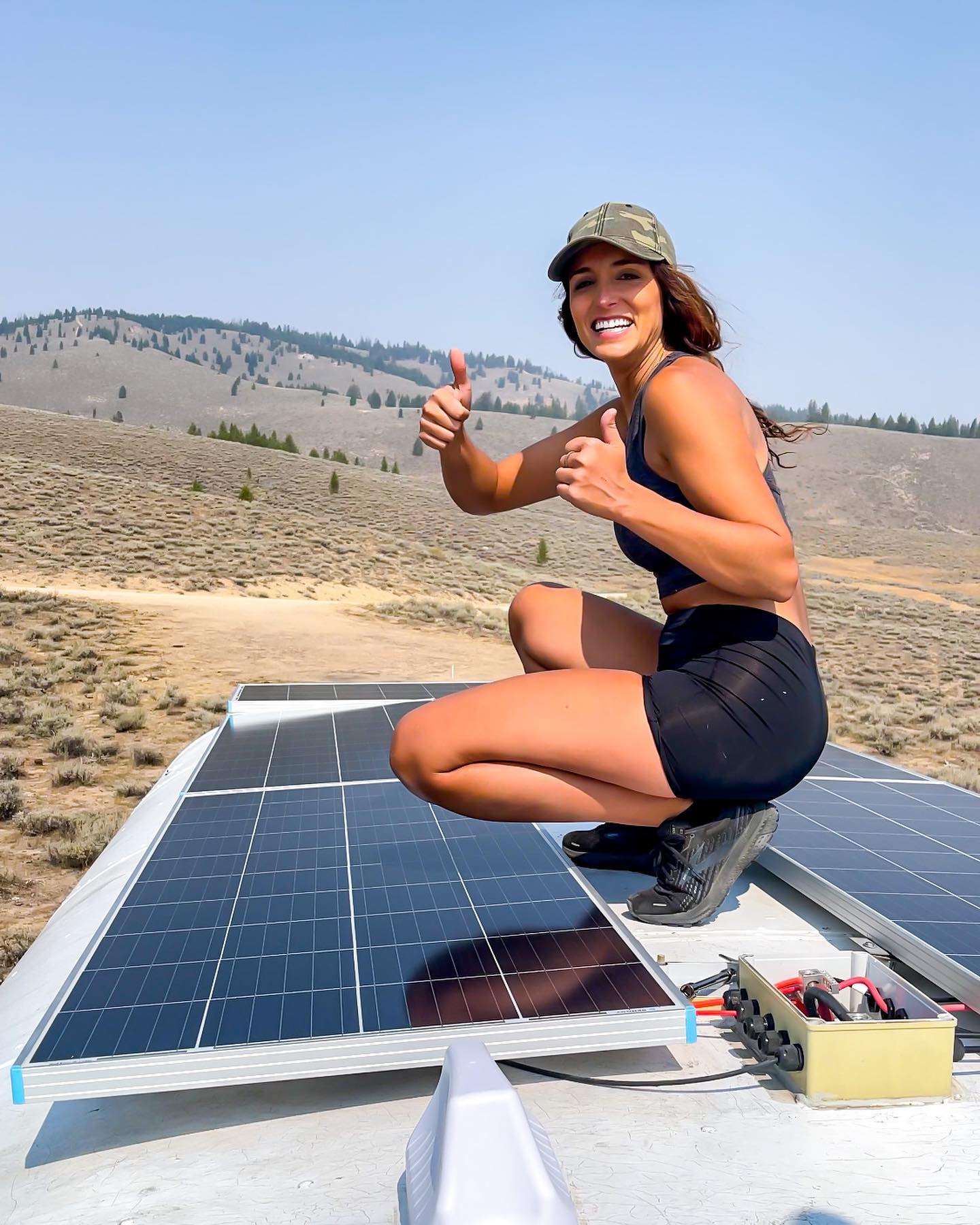 (Francesca with Renogy solar panels on top of her converted bus)
Anyone who decides to switch the lifestyle completely must take a leap of faith. Renogy asked Francesca for tips for any ladies or girls out there interested in exploring the possibility of an off-grid travel lifestyle. "The advice I have is, if you want it, go for it. Don't be afraid of what others might think. You have the power to control your own life. It might not happen right away, but if you want it bad enough, you can work to make it happen. If you want it bad enough, you will get there too."